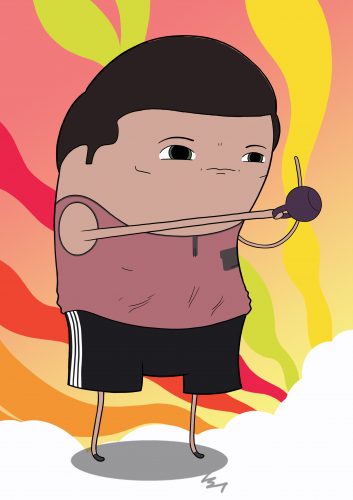 In his later years, Neitzsche (someone check the spelling for me – Christine?) wrote a series of chapters in Ecce Homo on why he was so great. (Why he was so wise, why he was so clever, why he wrote such good books, etc.) I think it takes a lot of stamina for a man to write with that level of effrontery. And plenty of core strength.
Some say he was crazy at this point because of a sexual disease – syphilis. I, on the other hand, like to think he was absolutely clearheaded and alert, that he knew what he was doing, and liked it – was laughing about it. He may also have been aware of a slight tingling sensation when he peed. But when has that ever stopped a man from doing anything?
I think it is sad and a shame when people who are great cannot come out and say it. For I feel all are great in ways even if they do not try to be, or want to be, or are ever told so by their parents. My uncle Frank, for instance: Many in my family, and in his family, and at his place of work, and all of his friends, and every alien who has ever turned his or her telescope upon us, have and do deem him an artifact of obscene inefficiency. Yet I – the compassionate one, the optimistic one – see a man who tried to not get much done and didn't fail. He aspired for no acclaim, and made all the progress he could.
So what if we all took a moment to write about why we are so great? I feel we could increase our confidence in this way and really become someone. There is something so very special and solidifying about writing affirmations, isn't there? As if anything you say is bound to happen. Care to try?
Assignment: Take five minutes a day to write about yourself in the most flattering (aggrandizing?) manner. These can be things that are true or things you wish that were. I get this can be awkward at first, so here's how to start.
Formula: I am BLANK and BLANK, because… [action you take or are going to]
I am strong and great, because… [I work hard on eating healthy and training my body]
I am witty and wise, because… [I am always reading and learning]
I am loving and attentive, because… [I take time to love and appreciate my family]
Use these to get going, but also start on making your own. You want to believe what you write, and you will eventually. I promise.
– Pat