How to Write a Book and NOT Kill Yourself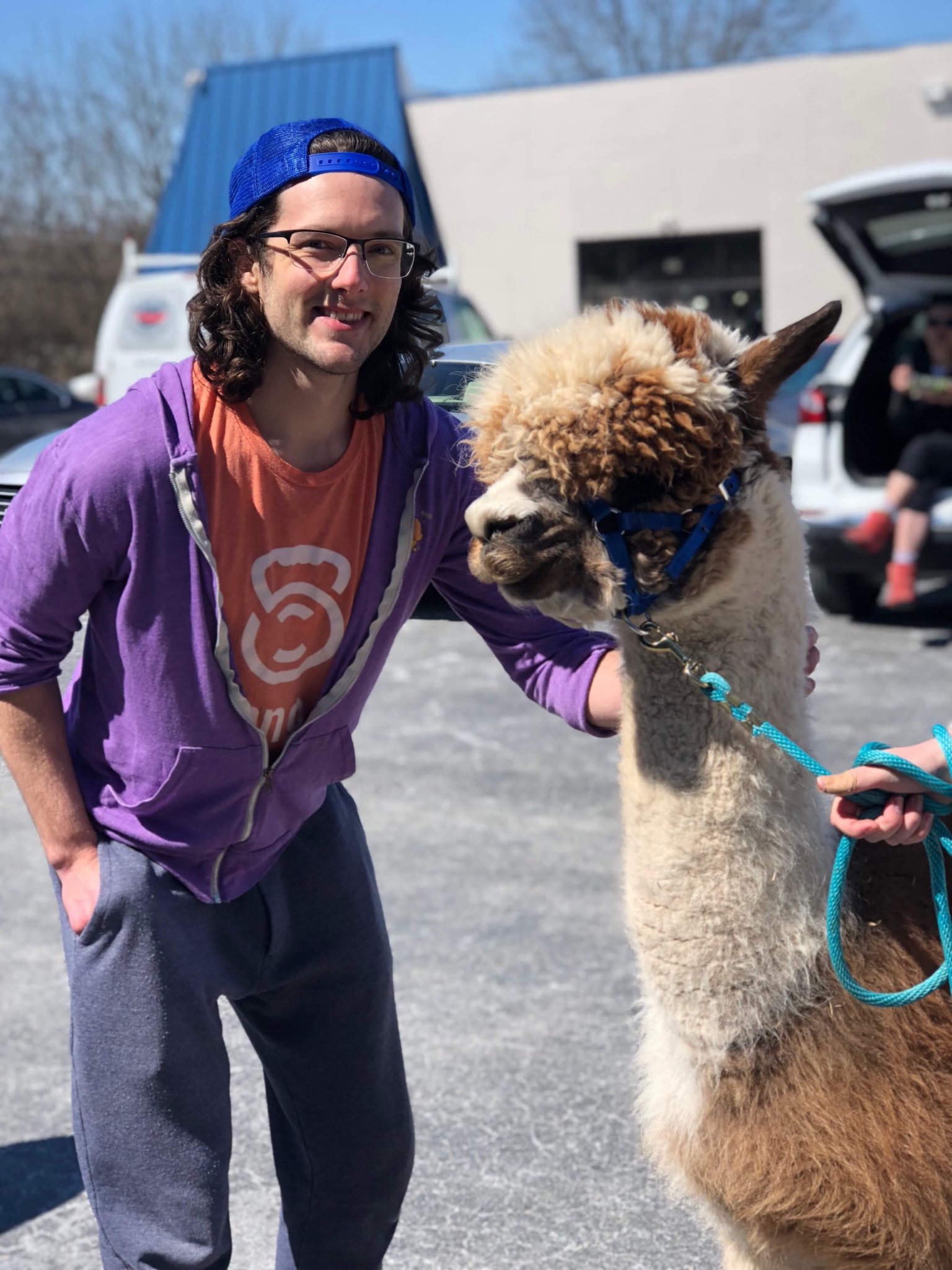 Sometimes when I'm pressed against a writing deadline and super stressed I'll watch a video of alpacas jumping around a swimming pool, and even better is Christine just found out that one of the nearby farms will bring two of their alpacas to any local event for only $185 (and that includes shipping!) which has left me thinking that maybe at some point in the not too distant future I'll call them up and say look guys I'm planning a birthday party and it's gonna be huge so maybe we could arrange for two of your finest specimens to come around, except it'll just be me so when they arrive so I'll have to act insanely depressed that nobody wanted to come to my alpaca-themed birthday party but then I'll say well since you're here I might as well take the alpacas into my house anyway, and then we'll spend the whole day together just the three of us and the owners won't even charge me for it (probably) because they'll feel so bad that some almost-thirty-year-old guy with long hair and a backwards hat on had nobody come to his birthday party even though he planned on paying for alpacas to be there, because how brilliant am I?
So that's one way I've learned to write a book without killing myself. The other is by re-reading the notes I left for myself from the other books that I've written without killing myself. Would you like me to share a few of those with you? Great. So I'm just going to re-type what I wrote so just be aware that this is being said to my future-self but applies I think to anybody who's ever struggled with a creative project. Alright here it is.
Listen jagweed (remember I'm talking to myself, not you!), because here's how this is going to work: I know you're crazy stressed right now since that's how you always get before you take on any new project. So let me reassure you of a few things. First, no project has been able to kill you yet, even though a few seemed like they were getting close. And remember that every project is terrible until the very end. It's not like you get halfway through something and then it's all smooth sailing from there. No. In our experience things tend to get worse as they go and more challenging in proximity to the finish line. This is true for fitness as well as business and in particular writing. 
Remember how the last few books went? Remember how you thought you'd never finish and how many times you kept starting over? Remember how many drafts you threw in the garbage bin? Remember how you swore up and down that as soon as you finished you'd never write a single word ever again? Well, I'm sure it's no different this time around so the best thing we can do is get our expectations right. We can expect the project will be difficult and we can expect it probably won't turn out exactly the way we wanted it to. Because if we can get our expectations right we won't be so disappointed when we get a draft back from an editor splattered in red ink, looking like a murder scene. Of course we'll still be somewhat disappointed, that's inevitable. But our level of disappointment will be the difference between eating arsenic to settling for just a few Tide dishwasher pods which I have say you the grape one isn't bad, in fact I'd say it comes highly recommended. 
I'm only kidding you've done a lot of weird stuff in your life but eating dishwasher pods hasn't been one of them, at least not yet. But here's what you need to remember. Writing is hard. LIFE is hard. And so far as we know things aren't going to get any easier which means we need to either toughen up a bit or adjust our expectations or both. You'll get through this. And when you're finished you'll swear this is the end of your writing career and then the very next day you'll be thinking about what book you want to write next and so the process will begin again. Maybe this is because you need medication or maybe this is because you're meant to do this, each of which seems like a perfectly viable option and maybe both of them are true. So there's your love note buttercup, I know super motivating, right? 
Good luck!
– Pat
PS – Here's a podcast on the creative process.