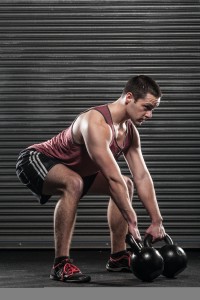 It can be tough working out in this kind of heat, Mister. It's oppressive, and baleful, and mean. Towels wet themselves and stamps don't need to be licked. Everything moves in slow motion, and you can see the swells of heat from out your front window, floating like a fever off the forehead of a bilious patient, and you think my goodness is this ever going to let up? The air is thick enough to chew on and it's very hard to breathe. Humidity is 97, and the temperature is 93. Another summer in Pennsylvania.
I've lived here coming on 7 years now, and the heat is getting somehow progressively worse. I think it has to do with the ozone layer, which has been disintegrated from all the hairspray my mother-in-law uses. But I have a prediction. Someday my mother-in-law will walk by a can of hairspray and not use it and the world will be saved. And someday politicians will be honest. And someday we will no longer have to pay taxes.
But in many ways I welcome the heat. It encourages short workouts and punishes lackadaisicalness. You sweat regardless. It purifies you. And it merits the consumption of iced green tea.
The Dragon Gym has two temperatures: Nightmarish Hellscape and Complimentary Frostbite. Hellscape occurs between the months of March/April-September/October and after that your toes start falling off. The thermostat is merely a decorative instrument and fiddling with it and expecting it to do anything makes you a fool.
This is not why you see us working out outside so many times in our videos, however. Fluorescent lighting lends a grainy look to the picture, obscuring important details. Because I use an iPhone and refuse to invest in healthier equipment I let the sun deliver the necessary brilliance.
But my cup of tea is almost empty, and I should hurry it along. Double cleans and presses and push ups and planks. Happiness and love and goodness and peace.
– = +
– Pat
PS – For anybody who joins my Inner Circle TODAY, I'm giving away my complete guide to hormone optimization. This will teach you exactly how to eat and what herbs you can take to balance your hormones and "fix your chemistry" so you can have more energy throughout the day,  eliminate clingy "stress fat", and build more strength and muscle.
CLICK HERE to join, and then email me at PatFlynn@ChroniclesOfStrength.com with the subject line of "Hormone Op" after you do and I'll send you the entire program.