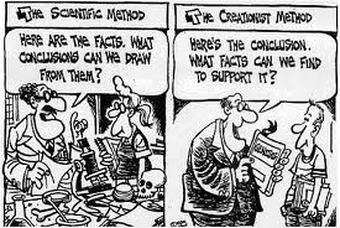 When an individual is more receptive to information that reinforces their preconceived notions, regardless of whether or not that information is true, they are said to have a confirmation bias.
To put it more simply, if you suffer from a confirmation bias (which we all do at times), then you are more likely to seek out information that coincides with your beliefs, and cast aside any information that contests those beliefs. In some cases the confirmation bias can be related to sheer stubbornness.
This is a sad truism of human nature, but ultimately one that we must overcome if we wish to develop and prosper. A productive life is measured by one's prosperity. If we are not prospering, growing, and learning, then we are dying. To suffer from a confirmation bias inhibits our potential development.
Let's look at a few examples of how and when a confirmation bias may negatively effect our lives.
We will start in the framework of relationships. I'll keep this one simple and to the point.
Boy likes girl. Boy wants girl to like boy. Boy has already developed a confirmation bias without even knowing it. Why? Because his emotions have gotten the better of him. He is now much more prone to accept only information that supports a conclusion of girl liking boy, whether or not that information be true or false. He is also now a great deal more likely to reject information that does not maintain the conclusion of girl liking boy. His perception is distorted through his confirmation bias. Girl may not like boy at all (she may downright despise him) and she may exhibit many signs of this that boy refuses to identify. Girl may not be good for boy, she may even be toxic in the long run. But boy is likely to ignore such signs as well, as they do not support the conclusion favored by his emotional confirmation bias. There may be another and much better looking girl living right next door to boy that is also much better suited for boy, yet boy will continue to ignore such facts for as long as his confirmation bias exists.
Relationships are the classical example of the confirmation bias. Many important aspects that are the foundation of a healthy and sustainable relationship may be ignored to a stern degree depending on the severity of one's confirmation bias. Toxic and abusive relationships are often a result of a failure to overcome a confirmation bias.
But the key to a prolific life is to ultimately rid yourself of all toxicity. In the context of relationships you must recognize which ones to develop and which ones to sever. YES, certain relationships can and SHOULD be severed. I'm sure you can think about a friend, that despite how much you may have cared for him/her, he/she severely brought your down and limited your personal development. A toxic relationship is something that we all will come across at one point or another, but it how we choose to handle that toxicity that determines the end result. If we accept and surround ourselves with toxicity, then we inescapably become toxic ourselves. Unfortunately emotions and biases garble your acuity and often hinder your better judgment. This is where the ability to take an aerial view is such a crucial skill to learn. To overcome a confirmation bias requires that you place upon your head an objective thinking cap.
Moving on to the realms of fitness and nutrition, where I personally have struggled with many a confirmation bias. I recall the first time I was introduced to the ketogenic diet by my mentor Brian Petty. A low carb diet? PREPOSTEROUS! For years I followed a low-fat diet (Again, at this time I was a stubborn high school punk with a strong confirmation bias). For a while, regardless of the amount of information Brian provided me to support his theories behind a low carb lifestyle for optimal well being, I rejected it, simply because it did not support my emotional conclusion that fat was the enemy.
And Jogging isn't the best way to lose weight he told me. Lifting weights are. I'm calling bs on this one! I'd been jogging for years, and although I was never very strong, I was fairly lean. So ultimately I only favored information that favored me. I wasn't very good at lifting weights. But I was good at jogging. So I was more receptive to information that promoted jogging and aerobics as the end all be all.
I was stubborn. I was plagued with the confirmation bias, and I was suffering from it. For a while I was not prospering because I was too stubborn to let go of what I believed to be true, even though all the facts were against my beliefs. An unclear perception was my infection.
I was thin, but far from muscular. And what I wanted was the hardened and sinewy look of a Spartan. I took a long look at myself and my belief system one particular night. What I became conscious of is that my inflexibility bred my limitations. My stubbornness gave birth to personal restrictions. I knew I was born to lead a prosperous and fruitful life, yet my biases were so strong that I was failing to live up to my potential.
I came to know that if I were to grow emotionally, physically, and spiritually, then I must overcome my confirmation bias.

Admitting that you could POSSIBLY be wrong is the most difficult step to take. You must audit your belief system and evaluate any potential biases you may have. Uncover why and how you may have developed a confirmation bias, and it will be that much easier to over come it. Do you favor something because you are good at it? Or because it has worked for you before? Perhaps it has to do with your upbringing. The possibilities of how a confirmation bias may develop are endless, but if you are unable to understand why you are biased, then you will be incapable of conquering it.
As a preacher of lifestyle optimization and an exercise specialist, I deal with confirmation biases day in and day out (I still struggle with letting go of some of my own). I am not here to change anyone's belief systems. That is on you. I am here to present information that you all may use to develop the architecture of an optimal lifestyle. Whether or not you are receptive to that information is your decision.


A Fireside Chat with Dr. Charlie Weingroff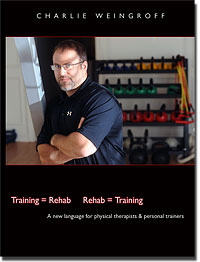 Dr. Charlie Weingroff and I met a few weeks back. I was fortunate enough to have one of the most gifted physical therapists on scene when I suffered my pesky shoulder injury. Thanks in large part to Charlie's advice (which you will hear about in the interview), my shoulder is back to 100%. Realize that I went from not being able to mobilize my shoulder in any manner without excruciating pain, to returning to heavy sets of double clean press and my full strength routine within three weeks – pretty amazing stuff huh?
Anyways if you remember last weeks post about cervical extension, then consider this the answer to that question.
Please pay very close attentio
n to what Charlie has to say ( you may have to take out a dictionary and anatomy chart in order to interpret a lot of it :p), as this information has the ability to alter your training philosophy for the better – should you choose to be receptive to it.
Aside from the topic of cervical extension, Dr. Weingroff and I also discussed:
1. His progressions for aerobic/anaerobic conditioning
2. His approach to improving rotary stability
3. Strength through the practice of movement
And Now For Your Viewing Pleasure

The amount of content I'm putting on this post is simply ludicrous. I could have saved myself a lot of work in the future by diluting much over this over multiple posts, but that wouldn't be as much fun now would it? Also, if you haven't signed up for our newsletter be sure to do that, otherwise you are missing out on a lot of exclusive content!
First up is a neat little upper body strength complex consisting of a vertical push, horizontal push, and horizontal pull coupled with core stability. I call it … "The Upper Body Kettlebell Strength Complex with Vertical and Horizontal Pushing/Pulling" – less than stellar of a title I know, but the complex itself I assure you is not. Enjoy!

Maybe I do Need Medication…

As soon as I posted this video I received a comment informing me that I should be on some sort of medication – because only an ill fella would ever want to do something like this.
This may be true. But that doesn't mean this isn't a fantastic quadrupedal locomotive movement, especially for stability purposes.

Two New Technique Reference Vids – #Winning

The reception to my short technique reference videos was great, so I will continue to post content like that often. These videos are primarily around to supplement the material found in my
kettlebell and barbell strength training eBook
(be sure to get your copy of the 120+ page behemoth).
Here are quick tech-ref vids for kettlebell double clean and press and barbell front squat.

And Now for the Finisher!

EDIT: 6/25/2011 – Interview with Dr. Weingroff – Application of the kettlebell swing

for conditioning