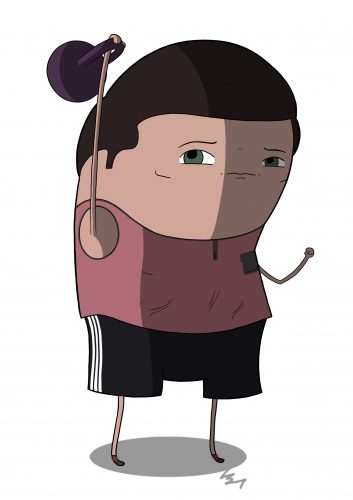 I have been doing online coaching for more than five years. I make a very nice income from it and help people from all over. I want to share with you a few ways of getting started if online coaching is something you are thinking about, maybe. I will give you ideas and tactics and I will give you a look what I am doing. Ready?
I will bypass for the sake of time the suggestion that before you do coaching online you should do coaching in person and be good at it. This is obvious. If you can't coach you shouldn't coach online. Coaching online is more difficult. Many cues and ways of teaching are taken from you.
So you're a good coach–that is assumed. But what you want now is to have more reach and work with more people and the internet sounds like the way to do it. Why yes the internet is the way to do it and I will show you how. Here's how.
Start by developing your online presence. You will want a website and a blog and also articles on other sites as well. Getting your name out there, that is step one. You should write two blogs a week and they should talk about things people have trouble with, like being overweight. You should work on reaching out to editors of other websites and pitching to them: You should say, "Hey, I have an idea for an article and it's a good idea and I think you should read it. Would you like to read it?" Most of the time they will say no and that's fine just move on to the next one.
Next, you need an email list. Business is about numbers and statistics and conversions. You can assume most people won't sign up for coaching with you and that's OK so long as you have enough that do. You need a pretty big email list, is what I'm saying, or maybe not big but at least engaged. If you have 1,000 people that love you and read your emails, you are in business.
Now, one way to get your first online client is to run a promotion. You announce you are starting an online coaching program and send emails to your list offering a consultation, either free or paid. I like paid because this will discourage people who aren't serious, they just want to take up your time and talk to you on the phone like they're your girlfriend. The consultation doesn't have to be expensive. It can be $45.
Next, what you do is you let people know this is not only a consultation but a strategy session, and whether or not they want to sign on for coaching they will leave that call with at least twice the value of what they paid. That's called a guarantee.
If they do sign on you should let them apply that $45 to their first month of coaching or just use it for lunch, somewhere. I charge $350-500/mo for online coaching. I have tested many prices over the years and this is what works for me. I know people who charge less or charge more and do well, but I think a range between $200-500/mo is pretty good.
Here's an email you can use.
Dear Human Person,
I am starting an online coaching program so I can help you get rid of body fat without following some horrendous diet. I have a system that can help you lose 20lbs in 30 days with just a few simple tweaks to what you eat and a fat-melting exercise plan you can do at home. 
If you are interested, hit reply.
We will schedule a strategy call to see if you are a good fit. It's free, except for the small $45 cost associated with it.
Hit reply and your email will go right to me and we can talk about it. 
 – ME. 
PS – I am only taking five people into my coaching program so don't wait around.
So you send a few emails like these and post on social media, too. In the emails you want to talk about the benefits and what people will get out of your program, whatever those are. You also want to use testimonials and before and after photos. You should have these and if you don't you need to get them right away. Nothing is more powerful than having pictures of people who have lost a lot of weight as part of your program.
When you do your strategy calls you should spend time helping the person on the other line. Don't try and sell them. The strategy call is not a sales call until the very end, which it isn't really a sales call, it's an agreement. What you do on the call is you learn as much as you can about the person and you talk about how you would like to help and you tell them everything and at the end you ask them if that sounds good and if they say yes you say OK, great. That's when you lay out your coaching options for them. You should have two options, at least.
If you have 1,000 people that read your emails and you run a promotion like this you should be able to get ten clients, which is not bad. That could be an extra 3-5k/mo, even, which is enough to live off of, in most cases, unless you live extravagantly, like me. Then you will need probably a little bit more.
I realize this is only a start and also a lot to take in so if you want to know more about this join my email list.
– Pat