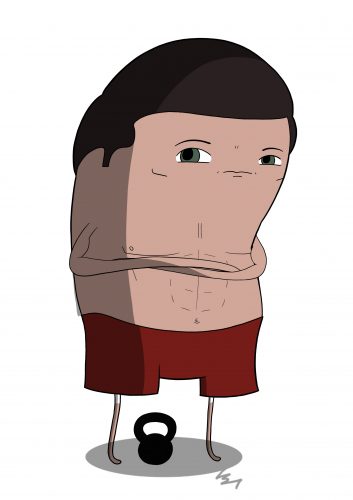 Scientific Weight Loss
So you go on the internet and inevitably read about all the ways one can go about losing weight, and all the successes and failures and opinions of people along the way. There's everything from Intermittent Fasting to If It Fits Your Macros, on down to the grapefruit or cabbage soup diet, and then of course there's always the option of subsisting entirely off a low-calorie concoction of some viscous, biological goo that tastes like an old pair of gym socks, mixed with either water or almond milk. Shakeology, is it? Or maybe I'm thinking of something else. I actually used to do SlimFast, back in high school, if you can believe it. Until I decided to bring a shake with me to Mr. Louey's biology class, which alerted my friends the fact I must have been on some kind of diet. I wish I could say they were nothing but extremely supportive of this. I also wish I could say I like the taste of cauliflower rice, or that me and Angelina Jolie used to date, only I broke it off because I didn't like all the attention it was causing. I'm not one for the limelight, really, you see.
Anyway, when you finally get to the bottom of all this dieting stuff, you see there are certain factors at play that are shared among those who experience success, even if they're following different plans. Things like self-monitoring, whether that means keeping a food journal, adhering to meal templates, or counting calories. No, you don't *have* to count calories. But you can if you want. There are many ways to preserve a log of what you're doing. So I tell my clients the same thing: Whatever you can stick with. That's what we're doing.
Another common point of confusion is the role of nutrition and how it compares to exercise toward the effect of weight loss. The short answer is eating is what matters most, but exercise (especially high intensity exercise) can help, a lot. The problem, however, is people often go at it from reverse, with hopes that following a high intensity training program will allow them to eat whatever they want. While a few, genetically gifted people may be able to get away with this, most won't. You need to focus on your eating first. Exercise comes after.
Sustainable weight loss also comes down to social support. So get among a group of people who are hip to what you're doing. Lifestyle changes are critical, and some of those changes may involve finding a new group of friends. So be it.
Other than that, any plan can work. Paleo, Vegan, Mediterranean, as if anyone gives a thought about the Mediterranean Diet anymore. What ever happened to that? Whatever. The best diet is whatever one you can stick with. And people who are lean and stay that way often eat a lot of the same things. Variety is overrated. Trust me. Or don't. Because what do I care? I'm just a magical little bean fairy.
And finally, don't forget about the two s's—stress and sleep. Get outside and smell the plants, and take the time to pet your hairless rat, if you have one. Don't stay up past your bedtime. Avoid the use of hard drugs. Meditate. Have some chamomile tea.
Strong ON!
– Pat
Summary: Scientific Weight Loss
Any diet can work. It's the lifestyle changes that really matter.
Therefore, the best diet is whatever one you stick with.
Self-monitoring improves outcomes. (Read: keep a food journal.)
Exercise is great, but nutrition is what matters most.
Eat a lot of the same things. Variety isn't all that helpful, actually.
Find a support group, and consider hiring a coach. (As it happens, I know a pretty good one.)
Get to bed on time. Do things to alleviate stress.