Editors Note: Every once in a while we'll get a product sent our way that's worth talking about. This is one of those cases. (Note: we accept no compensation for doing so.)
Enter The Crossrope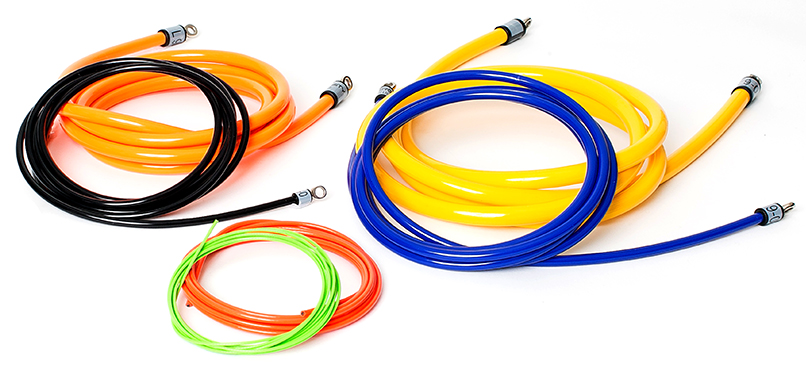 Kettlebells take the cake when it comes to convenience, versatility, and transportability.
Erm, let's scratch that.
It's certainly easier to transport one or two kettlebells than a barbell and weight plates or a set of dumbbells.
But my family has never NOT glared at me when I casually tossed my kettlebells in the trunk for a weekend trip.
And, somehow, despite their willingness to help unload the coolers and the beach toys, the 'bells always remain in the trunk for me to carry inside myself. Hmm.
After years of chastising, and as one to always bow down to the coercion of others, of course, I now typically travel with a jump rope.
(That is, in addition to my kettlebells.)
From time to time, I find myself loving to jump rope, practicing a lot, getting fairly good, and including it in my workouts nearly daily. No one can deny that they pack a huge bang for your buck, both literally–the cost to benefit ratio rocks–and in regard to time efficiency.
I had not been in such a jump-roping phase lately when Pat passed along to me the Crossrope Infinity Rope System Starter Kit–but now, here I am, again enamored with the simplicity, practicality, and fun of jumping rope.
You can do a lot of damage to body fat with a kettlebell and a jump rope.
[Note: If you suck at jumping rope, don't let that stop you from utilizing the jump rope as a tool for fitness. You'll gain coordination and athleticism through practice–PLUS, it's fun to experience such obvious progress from session to session.]
The Premise:
A customized "build your own jump rope set" experience:
You get one pair of handles that are compatible with all six (6) of the cables offered. The cables range from 1-oz. to 2-lbs. in weight, with recommended uses ranging from double-under and triple-under jumping (with the light-weight cables) all the way to strength-and power-development (with the heavy-weight cables).
The claim is that one can use the Crossrope system to meet all of one's jump-roping needs, without constantly replacing cheap ropes or spending lots of money for single, high-quality jump ropes.
The Specs:
I trialed the Crossrope Starter Kit, which contains one pair of handles, two cables, and a quick reference guide.
One pair of Crossrope Rugged Handles (10 oz.)
One "agility rope," a 1/4-lb. rope
One intensity rope, a 1-lb. rope
Jump Without Limits quick reference guide
The handles have a "tennis style wrap" for "superior grip."
The cables are both suitable for indoor and outdoor use, and are designed to be easily attached to/detached from the handles for quick interchangeability.
The Test:
I ran through "Your First Crossrope Workout," the "simple Crossrope starter workout" provided in the guide.
It required 8 minutes and 20 seconds and prescribed timed intervals for jumping "slow" or "fast"–using the Agility Rope for the first 4 minutes and 10 seconds and the Intensity Rope for the second. Rest times were built-in, and one of them was designated for changing ropes.
The Verdict:
I liked it.
A lot.
The GOOD:
-The ball bearings on the handles did indeed "provide ultra-smooth rotation."
-The prescribed workout was simple but demanding. It was very clearly written and easy to follow.
-The handles were comfortable and seemed durable.
-The rope construction, the same thing.
-I found the attachment clips to be easy enough to maneuver but require effort enough that there would be no risk of accidental detachment.
-The reference guide was useful, including technique tips and workout ideas, as well as Crossrope component specs and benefits.
Other considerations:
-An online community exists.
-There is a free workout app.
-The company appears to have pride in their costumer support, including an advertised 30-Day Exchange Policy and a Two-Year Handle Warantee.
-Overall, reviews of the products are very positive, including mine.
-The concept is pretty cool and unique. The novelty adds to the value of it.
The Drawbacks:
-There are only 4 different lengths available (8′, 8'6″, 9′, and 9'9″), and the length cannot be customized outside of those S, M, L, XL options.
-At least during my initial few workouts (without a lot of practice under my belt), it took a solid 20s-30s to change the rope. If you are looking for super-quick transitions, you would need two sets of handles. (However, I'd say most jump rope workouts worth doing would require this amount of rest anyway.)
Other considerations on this end of the spectrum:
-The times prescribed in the sample workout took a wee bit of time to set in my timer.
-The quality and cost of any jump rope lie in the handles. With this system, you could have one pair of handles and cables in varying lengths and weights, so that the system could, in essence, be shared amongst a couple or family. And, from what I can tell, the handles feel every bit as quality as the price would imply.
Check It Out!
– Alyssa