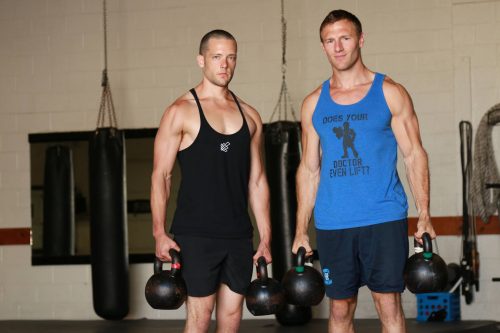 How should you structure a plan for hormone optimization? We'll get to that in a minute. But let's start with why hormone optimization means, and why this matters.
Hormone optimization is achieving the ideal interplay between your organs and endocrine system. People talk a lot about hormone optimization. I'm one of them. Because hormone optimization is the key to seeing your best results in the gym, and setting your body up for success. The gentlemen above train 3x/week. They are clearly optimized. And handsome according to some.
When people work hard without payoff–which, unfortunately, is many of us–this comes down to hormones, a lot of the time. Things are out of whack. Something's not signaling right. But with a few tweaks to eating, sleeping, training, and stress, we can get results to pick back up again, I just know it.
The 5 Hormones You Should Know
Hormones are signaling agents. They tell our body what to do and let us see the results of our work. If hormones aren't signaling right, we at best see a lack of results. But more often we feel tired, hungry, sad. We become overweight.
Testosterone, leptin, cortisol, insulin, and growth hormone are the most talked about hormones when referring to fitness. Let's review each one quickly.
Testosterone is anabolic. It revs our libido and builds our muscle. This is the one everyone is obsessed over.
Growth hormone is also anabolic, and aids in muscle and joint recovery. Some call growth hormone the fountain of youth.
Leptin is the satiety hormone. The function of leptin is to say it's OK to burn fat. Low levels of leptin can make leaning out painfully slow.
Insulin can drive muscle growth and/or fat storage. It, too, is an anabolic hormone. The key is to take advantage of it at some times, but not others.
Cortisol is our stress hormone, and often blamed for poor sleep and excess body fat.
IMPORTANT: Hormone optimization isn't about injecting growth hormone while getting rid of cortisol. Hormone optimization is about having the right balance. Cortisol (the stress hormone) isn't something we want to get rid of. Sure, a lot people have too much of it. Sure, it makes stubborn fat, stubborn. But when cortisol is in check, it levels out blood sugar and helps maintain our immune system.
All of our hormones are important, and our job isn't to pick winners or losers, but to restore their ideal relationship with one another.
So here is a checklist that can help. Consider this a hormone optimization primer–a starting point, or even a diagnostic. See which area needs improvement and work on that very hardcore.
Top 10 Rules of Hormone Optimization
1. Cut when leaning out, but not too much (12-16cal/pound of bodyweight) to manage cortisol.
2. Have at least one high(er) calorie day per week to restore leptin.
3. Eat carbs (but not too much) to avoid testosterone from plummeting. Eat most of your carbs around your workout. Avoid "white carbs."
4. Have plenty of protein (1 gram per pound of body weight) and enough healthy fat (take fish oil) to regulate blood sugar and insulin.
5. Be in bed before 10pm. No caffeine past noon. No electronics after 7pm.
6. Favor heavy and explosive, Compound lifting to maximize testosterone.
7. Keep your sessions short and intense to maximize growth hormone.
8. Walk a lot, and get out in the sun to lower stress.
9. Meditate at for at least 10 minutes a day, and have other hobbies for reducing stress, also.
10. Stay (or get) lean and strong. Being overweight leads to hormone imbalance, in the first place.
Conclusion
Don't let it be complicated. Hormone optimization starts with lifestyle and then heads to the gym. If your house isn't in order, no amount of healthy eating or exercise will atone for that. Everything is connected. Everything matters. And small tweaks can go a long, long way.
Strong ON!
  – Pat
PS – I'm soon launching my new 30-Day Hormone Optimization Challenge. I'll be offering a solid system (workouts + nutrition + lifestyle) for anyone who wants to get rid of body fat and build power and muscle, by restoring their hormonal health, naturally.
We'll be taking a dive into lifestyle, and working on a lot that goes beyond eating and exercise, so we can set you up for lifelong success. We will also work on eating an exercise.
Join my email list, if you want to know more. This challenge launches on Tuesday!