To give an accurate account of what goes on in my household between the hours of 6am to close, with two St. Bernards and a pregnant woman, is to describe very nearly the same happenings of what goes on inside the Philadelphia Zoo during the autumn Beast Feast. It is a scene of total carnage that defies all description:  The chief savage, as she is called, romps up and down the hallway, galloping, knocking over furniture, bellowing, and plowing through pedestrians—all this, before I even let the dogs out.
Then the true chaos begins. When the hounds are unconfined, I climb onto the couch, and high up on the back of it, as if the ground were rising lava, and curl myself into a ball and cover my head in my hands and pray them not to find me. But it is no use, they always do. And then they too charge the couch, and tear up to the top of it, and slobber me.
This is the start of my day, and I am about to introduce a baby into the mix—a fresh half version of myself, which I made a couple months ago, in what was a very strange and foreign process to me, but as I am susceptible to bribes, or in this instance, a vicious threat, I took to it, did what was commanded of me, sowed my seed, and thus contented the Rancor—and if Christine will just go ahead and have the baby already, I will be glad and very happy to meet him.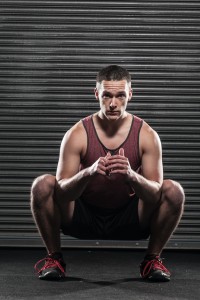 I want to talk to you today about stress, because I've come to know a thing or two about, and how to manage it.
I have much going on in my life right now, including all that which was just previously mentioned, as well as the writing and marketing of two books—which, if I might solicit a PRE-ORDER (Paleo Workouts for Dummies & Fast Diets for Dummies)—working this whole fitness blogging business thing (The Inner Circle), running a kettlebell certification and biz dev course (Oh, and before I forget, Killing It With Kettlebells November is now open for registration, and this is for any of you good people who are looking to get into this business, which is to say, the business of running large group kettlebell bootcamp. I can help you, but we only have three spots left.), and, of course, running my own KIWK bootcamp.
But I have no complaints whatsoever. And this is my first tip to you, to repeat that line at regular intervals throughout the day, especially when the steam pressure is maximally pent up, just say it—I have no complaints whatsoever, and straightaway this will open the check valve and stop your spleen from exploding.
People ask me what else do I take for stress and I tell them the first thing I take is exercise, but as you are reading this blog, I'm going to assume you are already doing the same. But let me add this:  The exercise you do, and the amount you do of it, can either alleviate or potentiate your stress. This is the most marked difference between what I do and what the prevailing dunderheads of maximalist fitness regimes do (you know who I'm talking about).
Intense exercise is a stressor, supposed to be short-lived, and when applied judiciously opens that check valve we were just talking about and so releases some of that steam pressure. It relaxes you. But too much exercise, either too much or too soon, flips the check valve around, like the one on a reservoir which permits influx but prevents outflow. Meaning, stress comes in, but doesn't go back out—not enough of it, anyways, and this keeps a person overly sympathetic ("fight or flighty"), and is very deleterious to the human condition.
Addictions seek a man out, as a way to alleviate pain, fear, stress, or at least to temporarily distract him from it, and exercise for too many, I see not as a healthy release valve, but something more along the lines of crack cocaine. And you try to talk to these people about it, and try to help them out, and they vehemently deny the harm of it and defend their vice as heroically does a dipsomaniac when you grab at his jug. Don't let this be you. Because it used to be me.
But now I know better, which is why I've gone minimalist. "Do the least you have to do to get the job done, not a smidgen more". That is how you use exercise to lessen stress and not worsen it, and how to not wind up with Rhabdo, or urine running down your legs and into your sock. Right, Crossfit?
7 Holistic Stress-Busters (That Actually Work)
I decided quite some time ago to settle the whole stress and anxiety matter in a holistic sort of way (and it worked), free from any sort of pharmaceuticals, which is now the common RX for a neurotic individual (over-stressed, over-anxious, or even depressed), but in most cases, to be frank, a wholly wrong one.
I admit the word neurotic does not advance my case, because it is based off the Greek word neuron, meaning nerve, and the suffix osis, meaning an abnormal or diseased condition.  But this is not what a neurotic person has, as the neurotic person is not diseased, but imbalanced. Specifically, the neurotic person has "…an illness characterized by excessive use of energy for unproductive purposes so that personality development is hindered or stopped" (Erin Berne). And illness is not the best word either, I don't think. Disorder, or again imbalance, I think are far more better fitted, but admittedly, much harder to write a prescription for.
I'll tell you what I did, but let me first say I've worked very hard at this (and at times gotten quite stressed over it, ironically), and I've spent much time in trial and error, and lastly, that this remedy, or perhaps these remedies, I should say, are only what I've found to be disgustingly effective for just one person—and that's me. I say disgustingly effective, because I am still flabbergasted as to how well it all works. I can say this, because one year ago, I'm pretty sure I knew more about stress than the person who invented it, but now I'm about as laid-back as a sea otter, which I've just learned has a pocket, or a flap of skin on his front leg,  for the safekeeping of his most favorite rock, which, I guess, is pretty cool.
Bacopa

For convenience, (my convenience) I quote Examine.com on Bacopa:"Bacopa is the 'queen' of Ayurveda, behind only Ashwagandha. It is touted as an anti-anxiety, anti-depression, and pro-memory agent, and is demonstrated effective in all claims. Also highly protective and beneficial to neural function, it takes up to four weeks to work best."Um yes, I agree on all points.

What I take:  250mg standardized extract and 500mg powder, first thing in the morning (before food).

L-Theanine


To keep these easy on myself (again form Examine.com),

"L-Theanine is a relaxing and nondietary amino acid found pretty much exclusively in teas from Camellia sinensis (alongside green tea catechins and caffeine) and is known to promote relaxation without sedation. It appears to be effective at this and reducing stress at standard dosages."

Another stress tip:  Do no more work than is necessary for you to do, before letting others do it for you.

What I take: 100mg, first thing in the morning with Bacopa (before food)

Reshei Mushroom

Reshei mushroom is almost identically to Chinese medicine what Bacopa is to Ayurveda. Both serve as potent stress-reducing agents and overall wellness promoters. The research is strong, too, which is good, because here I am truly speaking only on my own experiences.

What I take:  1 gram, usually at lunch.

Holy Basil

Another stress-reducing agent that I've found works well for me.What I take:  964mg (just what's in the bottle serving size), Holy Basil Leaf Extract (Hydro-ethanol and Supercritical Co2), usually at lunch.

Brisk WalkingWhat I take: Morning and night. Preferably at least once a day in a fasted state.And how fast, you ask, is a brisk walk? I say, imagine somebody is following you.

Meditation


I cannot give you a course on this, because I'm not qualified. All I can say is that with diligence, it works, and better than just about anything else combined. Find yourself a good teacher, and be patient.

What I take: 10-15 minutes, as often as possible.

Progressive muscle relaxation

Yes, this works too, but only to the extent that you work it. CLICK HERE if you don't know what this is, and for a follow along video.

What I take: 20 minutes, in the evening, usually after dinner, but after meditation (because if I attempt to meditate when I am too relaxed, I sometimes mistake it for taking nap).

Note: The oftener you practice this, the better, because as you acquire some skill at it, you can learn to literally "turn on" relaxation at any given time or situation—an enormously valuable skill.

Concluding Thoughts
I want you to join the conversation, and to tell me, and everyone else, a little bit about what you do to alleviate stress. Please share your remedies in the comment section, they are valued–and if they are thoughtful enough, you might even win yourself a stuffed beaver.